4 Creative Ways to Reuse Footage (or) Don't let that b-roll go to waste on the cutting room floor!
At the end of every project there's always video footage left over. No matter how efficiently you shoot, you will be left with clips on the cutting room floor. It's just a fact of production. 
That beautiful footage that you spent so much time planning, that you invested so many resources in capturing, just sitting in an archive somewhere, hoping to be noticed again, hoping to be useful.
Don't do your b-roll like that, here are four creative ways to reuse your b-roll, or alternatively titled, you paid for that b-roll, use it. Oh and if you end up using #4, we're entitled to a cut of the proceeds, just wanted to be up front about that. 

Creative Use #1: Spice up your social

Hands down, video is the dominant language of social media. So if you want thumb stopping content, start with video. You don't have to go to all the trouble of editing the footage into a flashy production, just take a clip add some text that ties in with your messaging and post away. Here's a quick example we've used as a capstone for the week. 
Bonus points: You can do the same thing with your still images, just import them into your video editor of choice, add some animated text and do a slow push in for an engaging effect. Easy does it. 
Too Busy?: We can help you put together a package of short clips with animated text and proper color grading quickly. All you'll need to do is drop it into your post and send it off to your soon to be engaged followers. 

Creative Use #2: Start a Gif Brand Awareness Campaign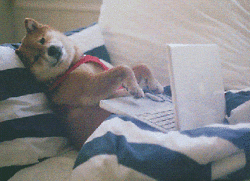 You love Gifs, you know you do, you love Gifs so much you even know the correct way to pronounce the word Gif. Guess what, everyone else loves Gifs too! More than 70% of people living in the United States use emojis, GIFs, and stickers in their daily communications (Harris Poll, 2017) and from anecdotal experience my parents are a big part of that group. 
So what does this have to do with your b-roll? Well, the largest search engine of Gifs on the internet is Giphy, where you can create a brand account. Once you do, you can upload your footage and turn it into Gifs for that 70% of the US population, and my parents,  to use in their daily communications. Just make sure you add your brand logo to your footage before you upload it, and then tag the uploaded footage with relevant keywords so that it shows up in search results.
Use Case Examples: Let's say you're a healthcare institution and you have footage of a nurse giving a patient or family member a hug, or squeezing a hand to show compassion. Put your logo on the footage, upload it to Giphy and tag it with the search terms care, nurses, and compassion. Done.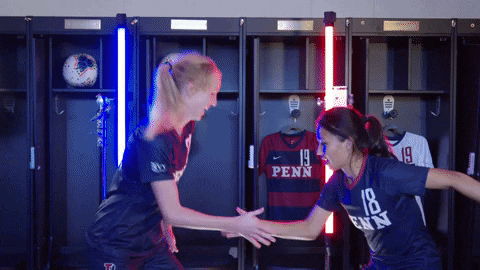 Or perhaps you work in higher ed and you've got a shot of a student raising their hand excitedly in class. You could tag it with, excited, class, or pick me. You could even make multiple versions, one with the text "I know, I know!" superimposed on it and then tag it with the search term "I know". Check out this example from The University of Pennsylvania's athletics department.

If you want to dive a bit deeper on this, here's a more in depth rundown on using Gif marketing to boost brand awareness.  
Too Busy?: We can help identify footage we've shot for your team that would translate well into Gifs and add your logo to the clip. Then all you have to do is set up your brand account and start adding relevant tags. 
Creative Use #3: Website Hero Videos or Digital Signage Systems
A great way to engage people as soon as they visit your website is to have an embedded video that automatically plays at the top of your page. At Narrative Media we use a carousel of Hero Videos on our website to highlight some of our recent work. Best practices here are to remove the audio (no one likes websites that are loud when they load), and to use videos that are smaller in file size so that they still load quickly over slower connections. Additionally the videos should be short, think 4 or 5 clips with a total run time of about 15 to 20 seconds. In addition to your website, you could also use these clips as part of your in-house digital signage systems.
Use Case Examples: We always suggest using footage that tells the story of your brand. That might be aerial shots of your facilities highlighting the size and scope of your institution, or it might be a staff member interacting with a client or customer. 
Too Busy?: We can help identify footage that would be appropriate for your website, cut it together and deliver it in a compressed format that will look good on your home page while still loading quickly. 

Creative Use #4: Make an NFT and sell it for millions 


Why an Animated Flying Cat With a Pop-Tart Body Sold for Almost $600,000
What a time to be alive! 
*throws keyboard in the air and walks away.*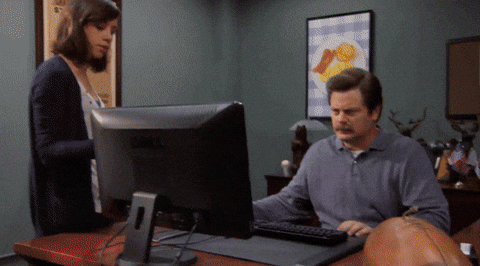 Ready to bring your story to life?
In-person tours aren't happening right now due to Covid-19 but, with the help of this virtual showcase, new team members can get a better understanding of the breadth of capabilities available to patients at MD Anderson Cancer Center.
https://narrativemediallc.com/wp-content/uploads/2021/05/IMG_7713-scaled.jpeg
1920
2560
Jessica Champion
https://narrativemediallc.com/wp-content/uploads/2021/10/NM-Logo-300x300-1-e1633537926502.png
Jessica Champion
2021-05-21 06:28:44
2021-10-18 12:20:46
Case Study: MD Anderson Virtual Showcase
Late in 2020, Cooper University Healthcare reached out to Narrative Media in hopes of obtaining creative support for a project they'd initially conceptualized internally. Wanting to offer their recognition and deep gratitude for the countless hours and efforts contributed by their doctors, nurses, technicians, and staff, Cooper's hope was that they could somehow encapsulate all the highs and lows of this trying, "all hands on deck," year.
https://narrativemediallc.com/wp-content/uploads/2021/05/IMG_7799-scaled.jpg
1920
2560
Jessica Champion
https://narrativemediallc.com/wp-content/uploads/2021/10/NM-Logo-300x300-1-e1633537926502.png
Jessica Champion
2021-05-13 09:47:47
2021-10-18 12:20:47
Case Study: Stories in Care: An Oral History of Covid-19
In the winter of 2020, Rowan University was planning for the coming Fall Academic Semester. Student applications had been sent in, acceptance letters were about to go out, and now the wait began. They needed students to accept and attend in the fall. But how could they encourage students to accept their offer in these uncertain times?   
https://narrativemediallc.com/wp-content/uploads/2021/04/Be-Unstoppable3-Frame-grab-scaled-e1620931108887.jpg
1324
2560
Andrew Poag
https://narrativemediallc.com/wp-content/uploads/2021/10/NM-Logo-300x300-1-e1633537926502.png
Andrew Poag
2021-04-19 13:52:28
2021-10-18 12:20:47
Case Study: Making Rowan University Unstoppable